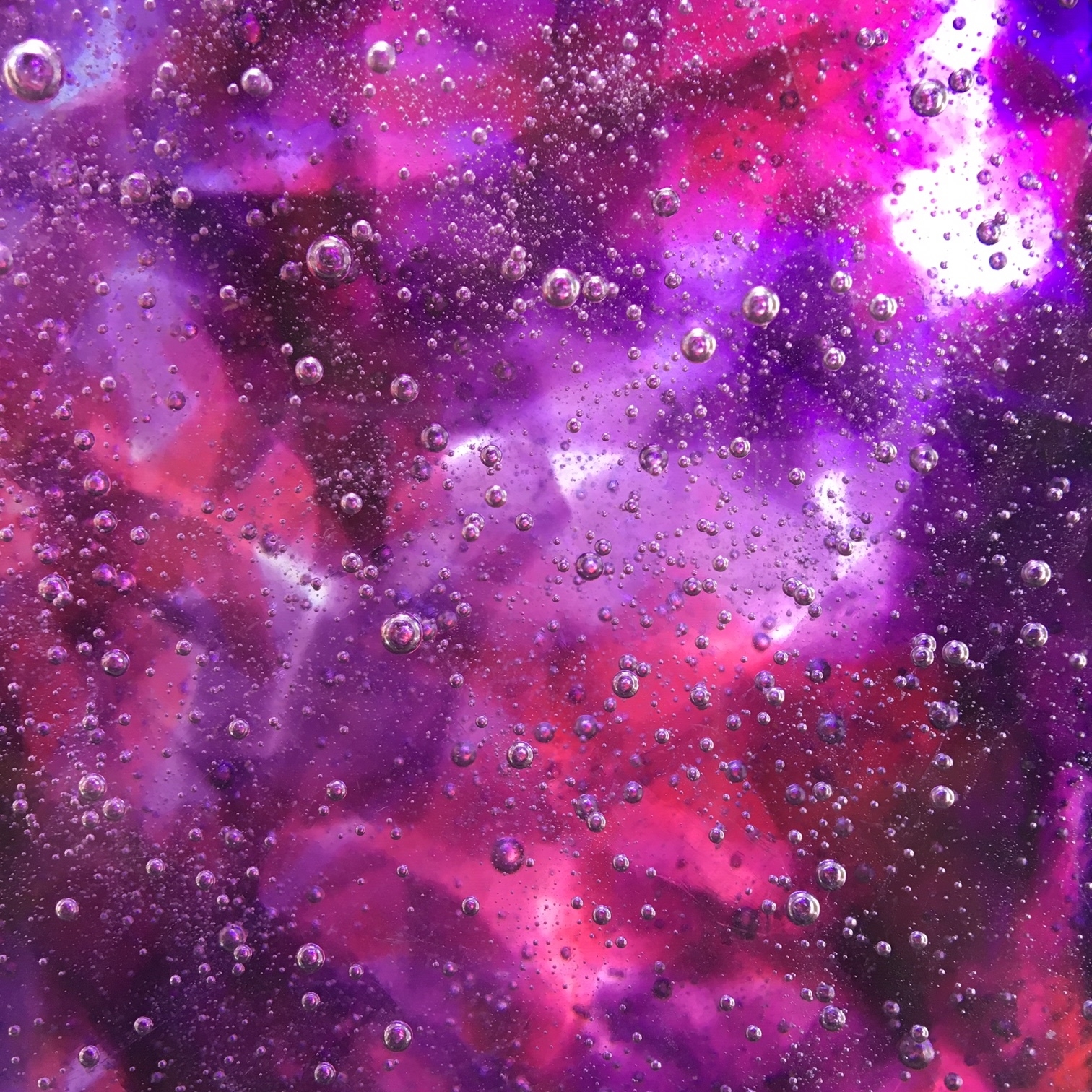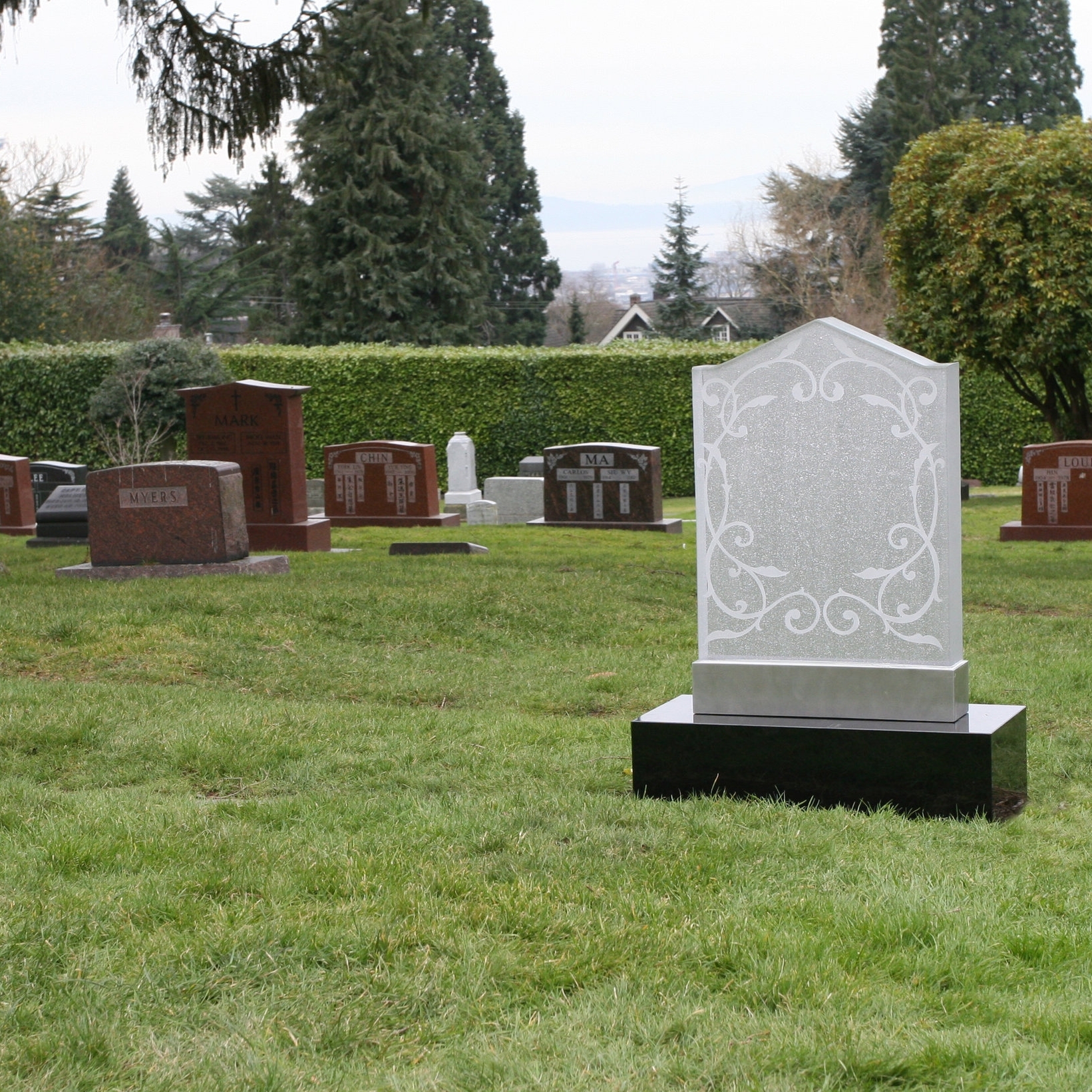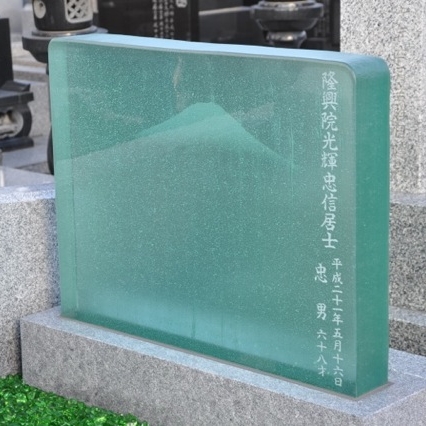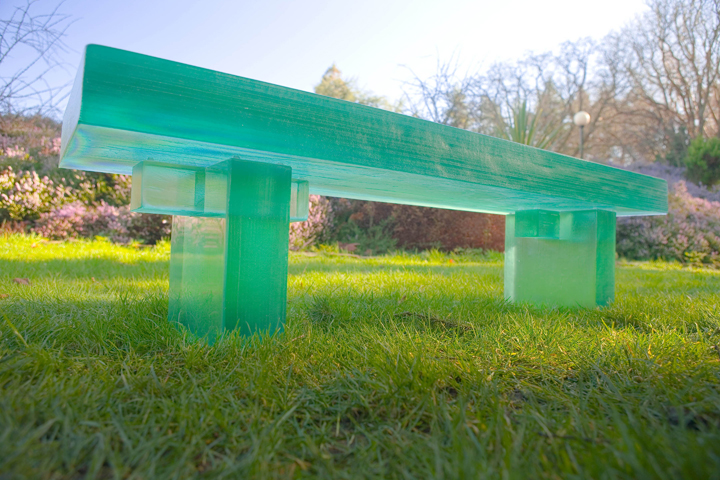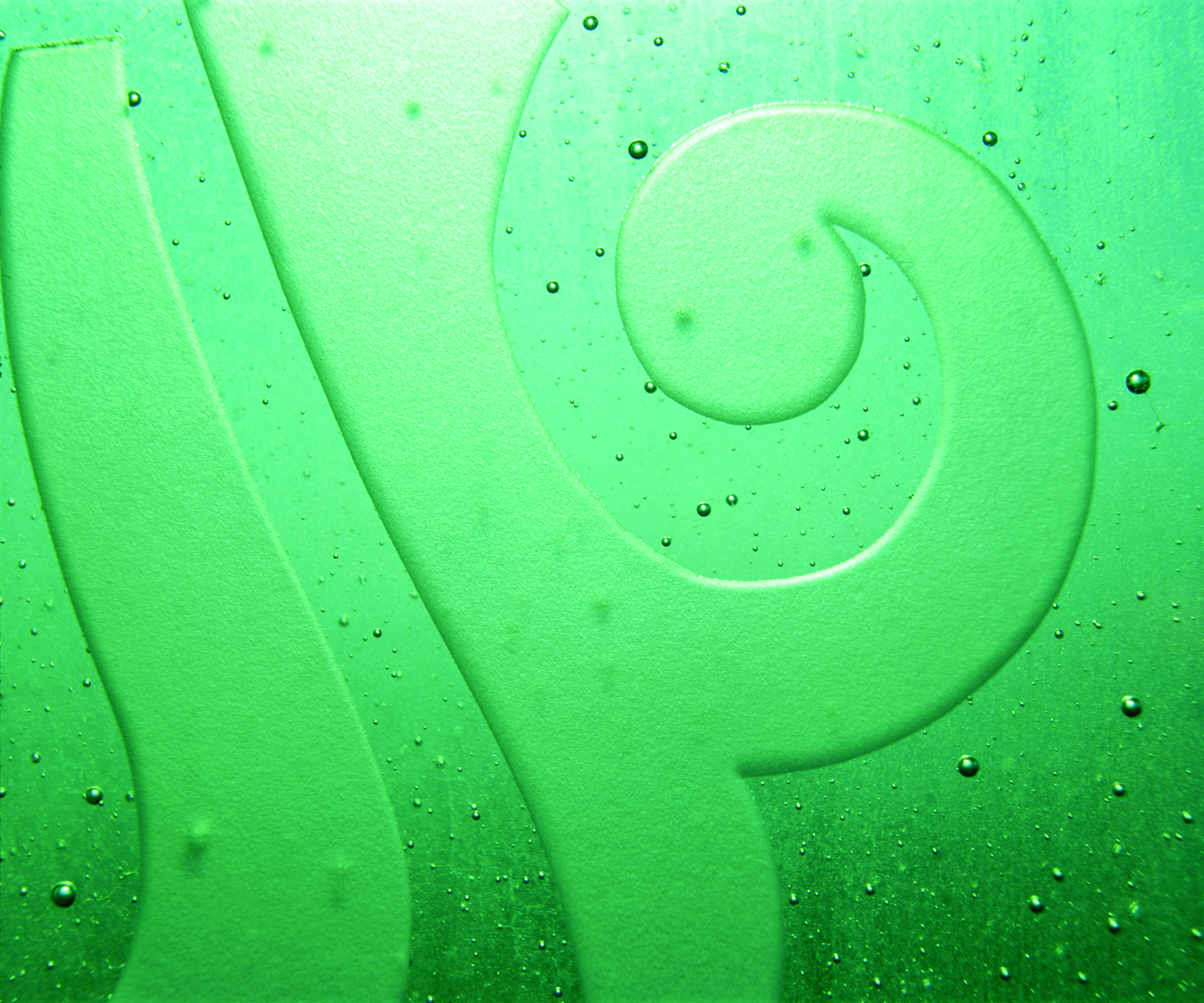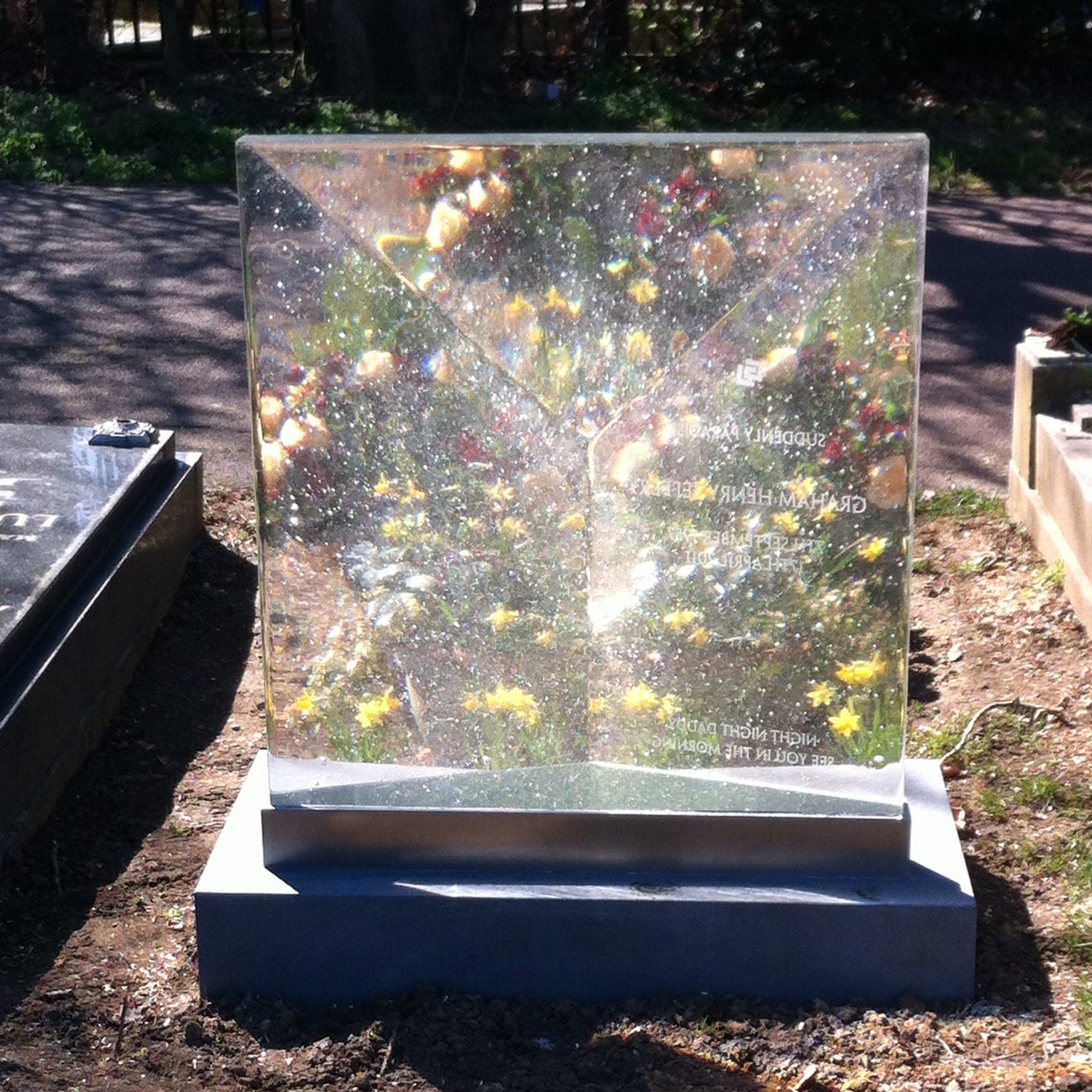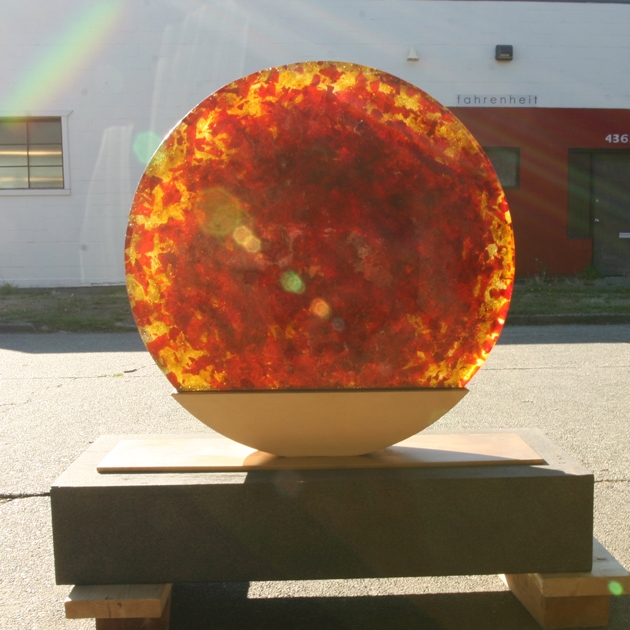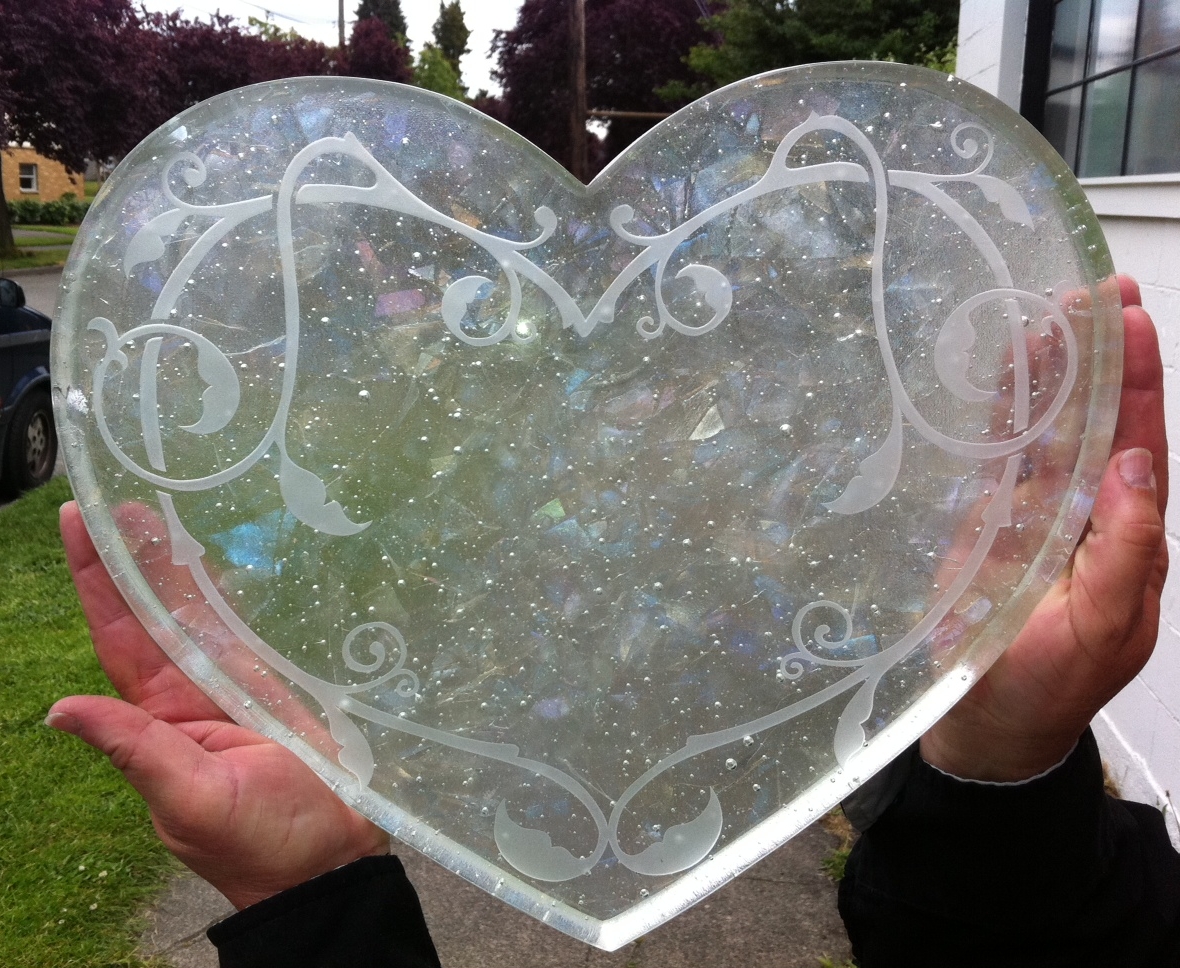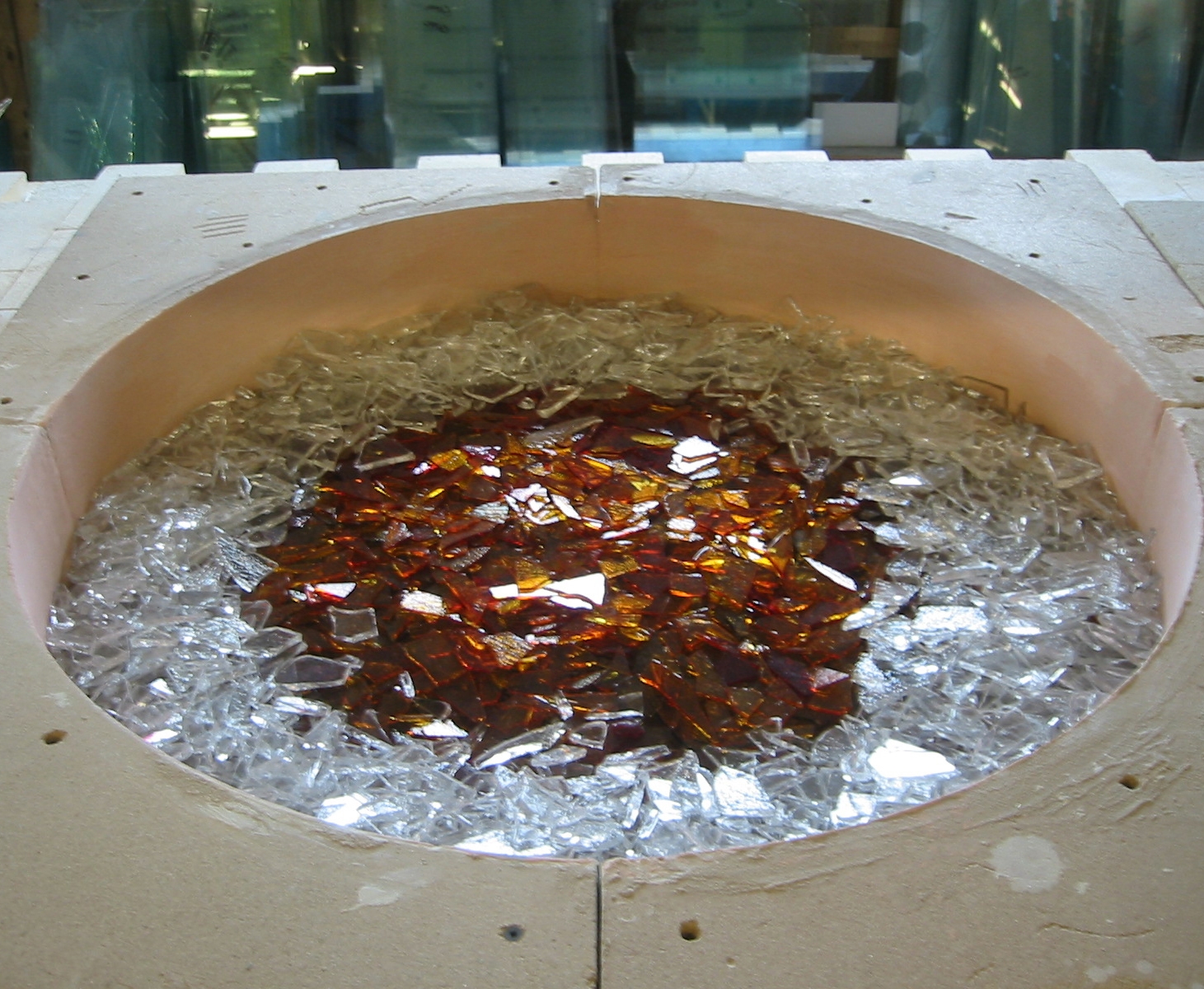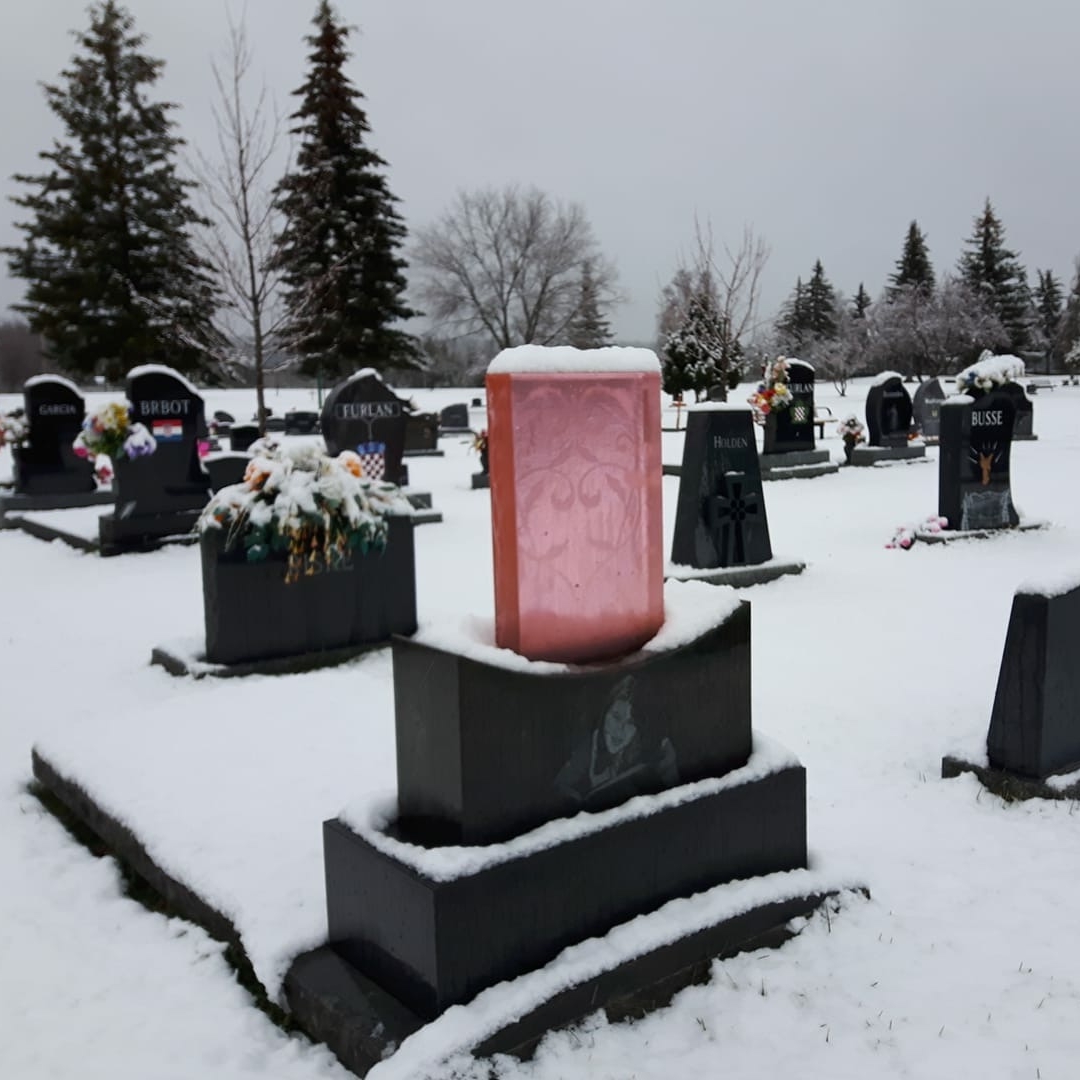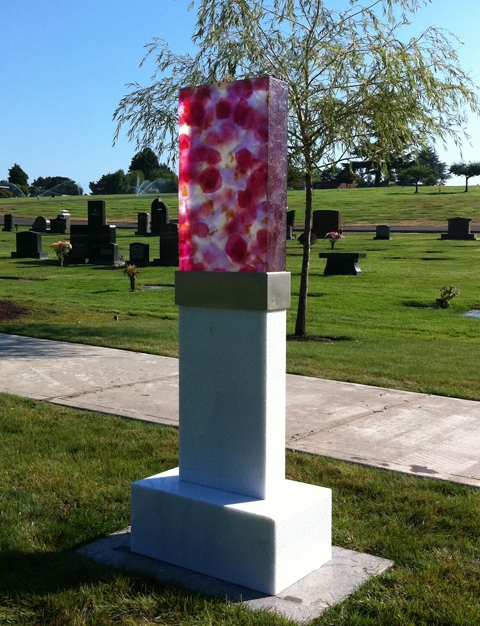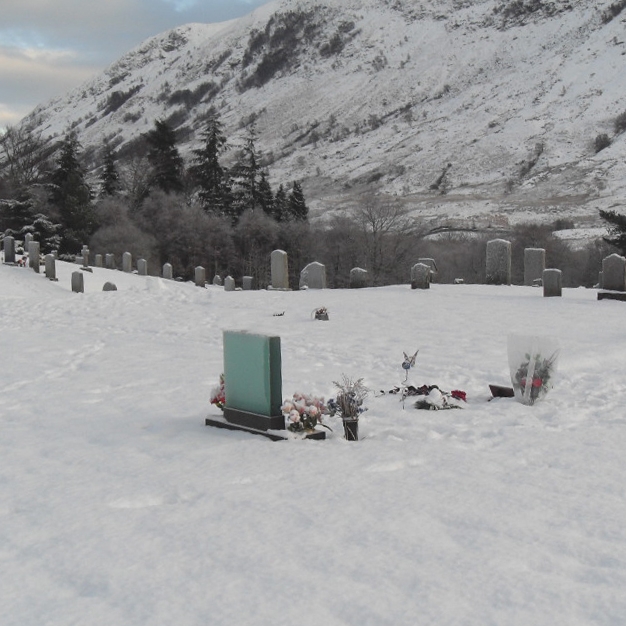 Let the light shine in!
Glass and granite are surprisingly similar materials. Both belong to the same family of super-saturated silicas and use the same tools and processes for cutting, polishing and etching. The perception that glass is fragile stems from everyday items like light bulbs, drinking glasses and picture windows that are only a fraction of an inch.
Adding color to the cemetery landscape.
We began casting glass for furniture, countertops and sculptures - often made for clients who wanted an alternatives to granite. It didn't take long to start thinking about other uses of granite, and we cast our first memorial in 2001. The cemetery was the perfect place to introduce color, illumination and diversity to an otherwise monochromatic landscape.
For those that stood out in the crowd
We work with families around the world to design and fabricate striking, one of a kind memorials that feel more like sculptures than headstones. We do not work with catalogs or pre-made shapes - everything is collaborative, custom and only limited by your imagination.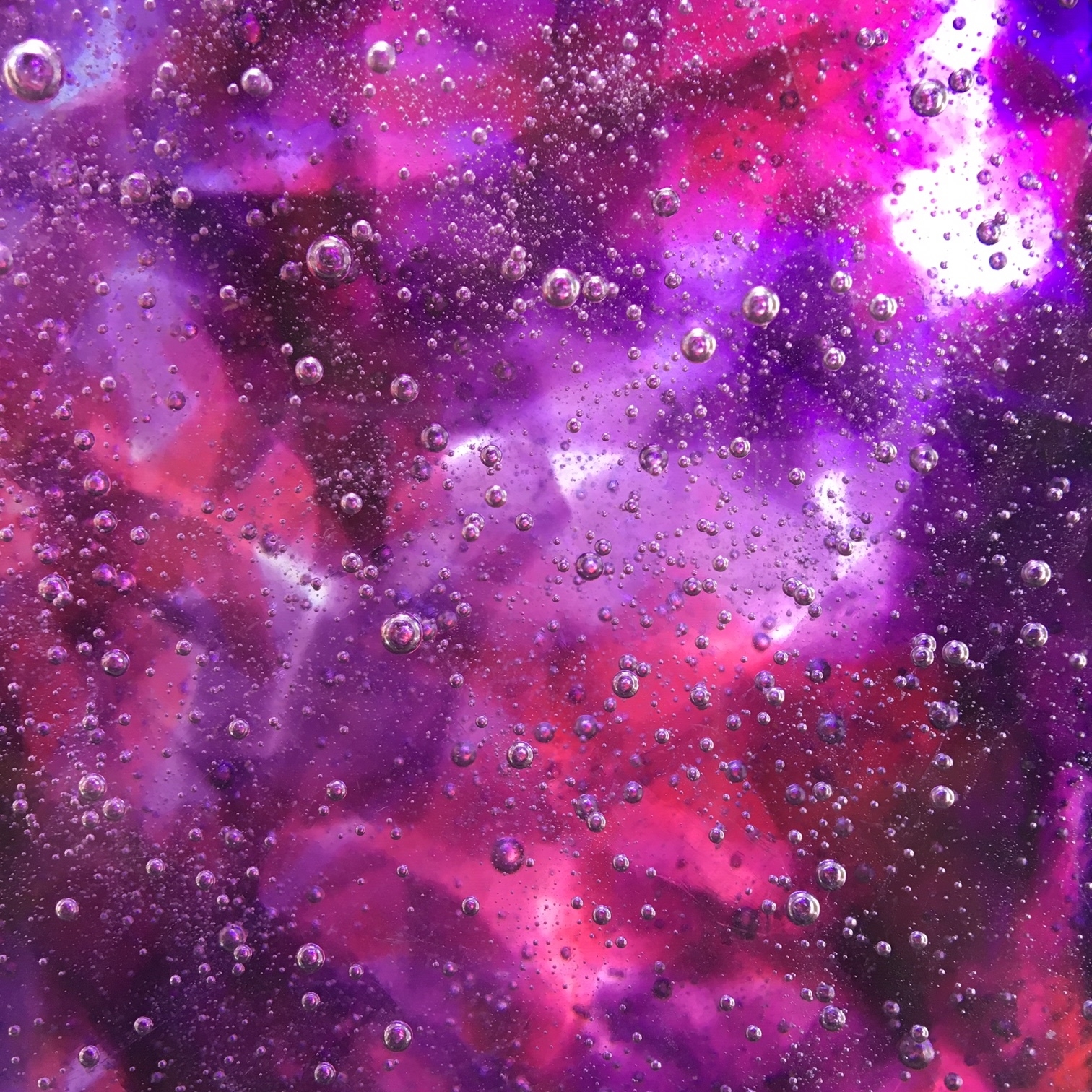 people live colorful lives
Have you looked at a granite memorial and thought to yourself that does NOT feel like the person I love? Most of our clients have reviewed their local options and found them to be inadequate. We exist for the families that want something more colorful, energetic and unique. From hot pink to ocean blue to all colors in-between, we make memorials that highlight the individuality, energy and character of the person they honor.
Maintenance Issues
Be warned - your memorial will be covered in fingerprints! That is because friends and strangers alike are drawn to our glowing, illuminating memorials and you can't help but reach out and touch them. Luckily, fingerprints are easily wiped away with window cleaner and a cloth.
radiant hearts!
We have made all types of hearts - large and small, pink and red and purple, thick and thin, big and bold or just a detail of a larger memorial. Anchoring glass into a granite upright elevates and allows them to harness that early morning and late afternoon sun. Cast glass can serve as a brilliant detail in a larger granite memorial.
Our design process is collaborative.
Designer Greg Lundgren views the design process as a collaboration. He is happy to create original designs for your consideration and tailor to your directions and needs. It is this back and forth dialog that results in the most thoughtful, and appropriate finished memorial.
Powered by sunshine.
There are several different processes to cast glass, and all provide different looks. Sometimes the glass is crushed and placed in a mold like a bowl of potato chips. Sometimes we cut and stack layers (pictured) to create graphic pattens within the glass. And sometime we load in glass billet like candy bars to reduce the amount of bubbles. When the glass is melted together, all it needs is a little sunshine to make it glow.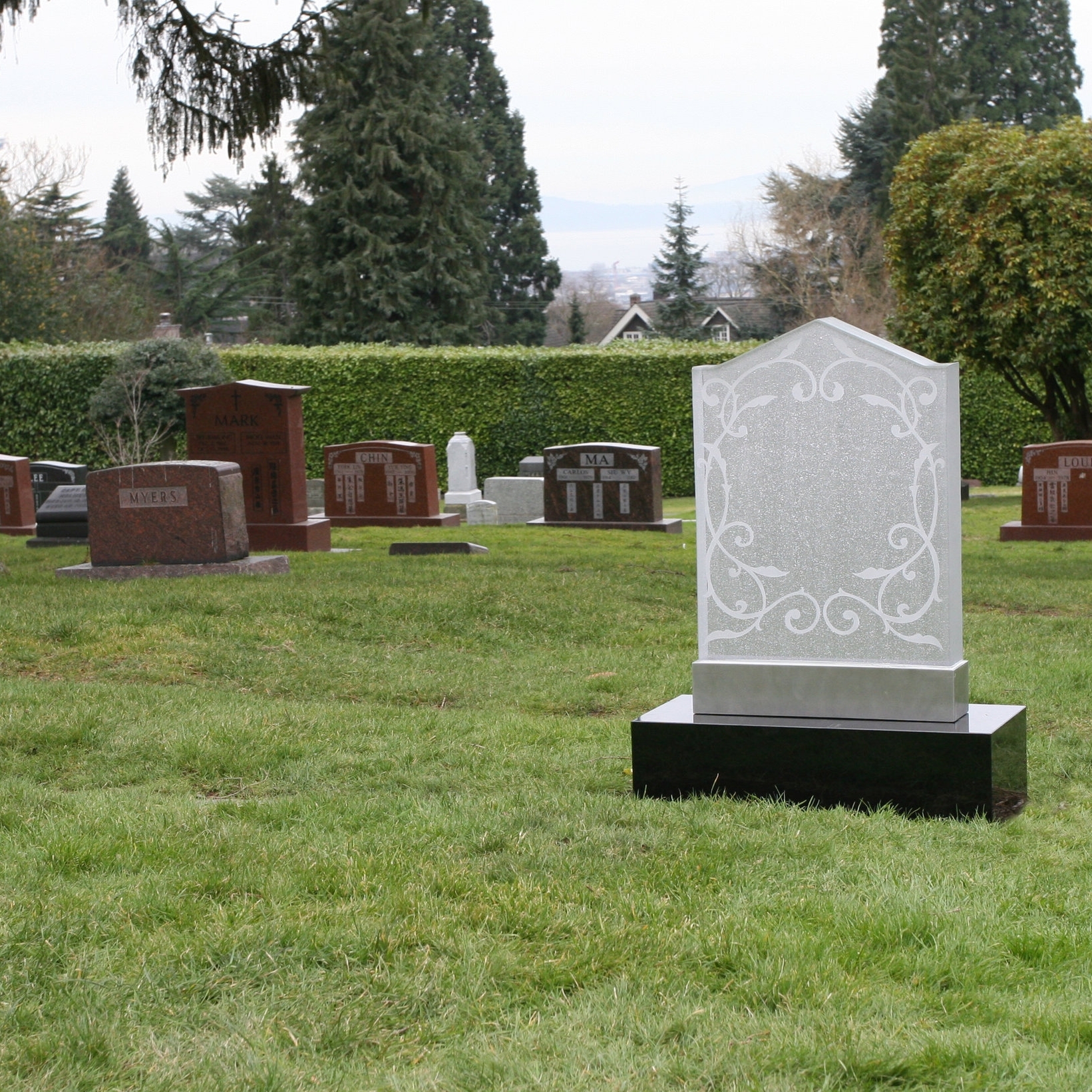 What about hot and cold climates?
One of the most frequently asked questions is if the glass can withstand cold winters or hot summers. If cast glass is properly annealed, it behaves no different than any other glass in your environment. Skyscrapers are wrapped in glass, our homes and cars are constantly exposed to the elements - cast glass memorials respond to hot and cold just like the streetlights, headlights and storefront windows in your town.
Why haven't I seen this before?
Large-scale cast glass is relatively new in art and sculpture. That's because the cooling cycle is so long and precise that it requires 24 hour attention, sometimes for weeks on end. Prior to computer controlled kilns, this this process was monitored by a technician, making large cast pieces very difficult and incredibly expensive. Employing computer controlled kilns opened up new worlds to glass artists around the world.
Individuality is not carved in stone
Cast glass memorials look different in the morning that the afternoon, radiate light differently in the winter than the summer. It is almost as if they are lit from within, and change as the quality of light changes.
anchoring glass in steel
Bronze and stainless steel can be beautiful and functional ways to anchor your glass element, much like a precious stone is set into a piece of jewelry. And much like jewelry, we design our memorials to be theft proof, using hidden anchoring mechanisms that keep our memorials where they are intended to stay.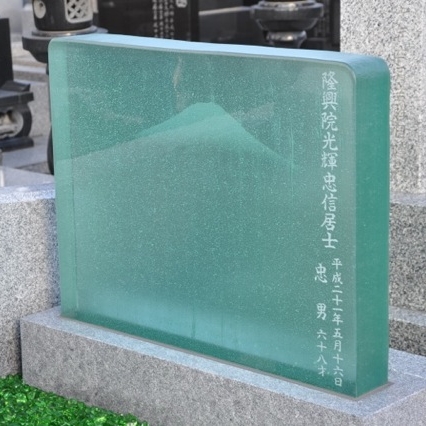 etching in other languages
We create projects in other countries with non-english engraving. We do rely on you to provide vector-based text files so we don't get it wrong, but can etch anything you can convert for us.
family memorials
Family memorials present opportunities to remember multiple loved ones with a more substantial sculptural work. It allows for wider, larger memorials that can span several plots, with family names etched at later dates.
hello sunshine!
Our memorials are sun-powered and literally glow in the cemetery landscape. We don't think they are for everyone, but if you know someone who could light up a room, this just might be the right way to memorialize them.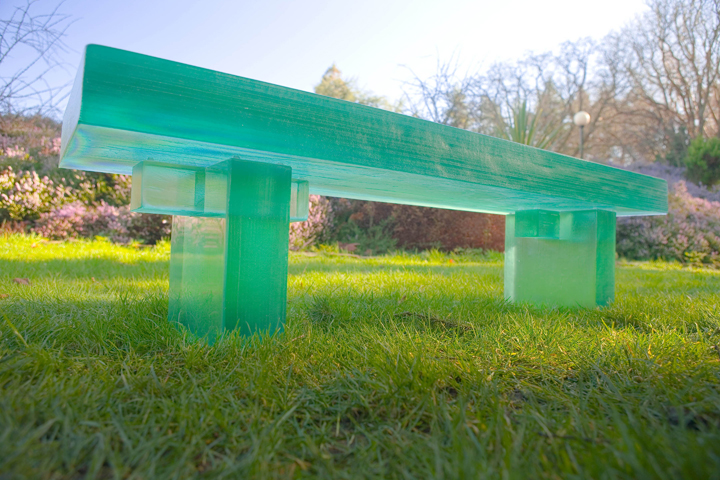 memorial benches
We make some pretty amazing memorial benches as well - from all-glass to combinations of glass and granite. Family names can be carved across face of the bench and we can make them in any color of combination of color.
Above bench is 16" x 16" x 60"
price: $22,000.00 + shipping
What color is your spirit?
Is it hot pink? Sky blue? An explosion of purples and oranges and reds? Six different shades of green? We are pretty sure that it isn't black, or grey or brown. Introducing color into a memorial is a powerful way to present individuality and remember someone as they were.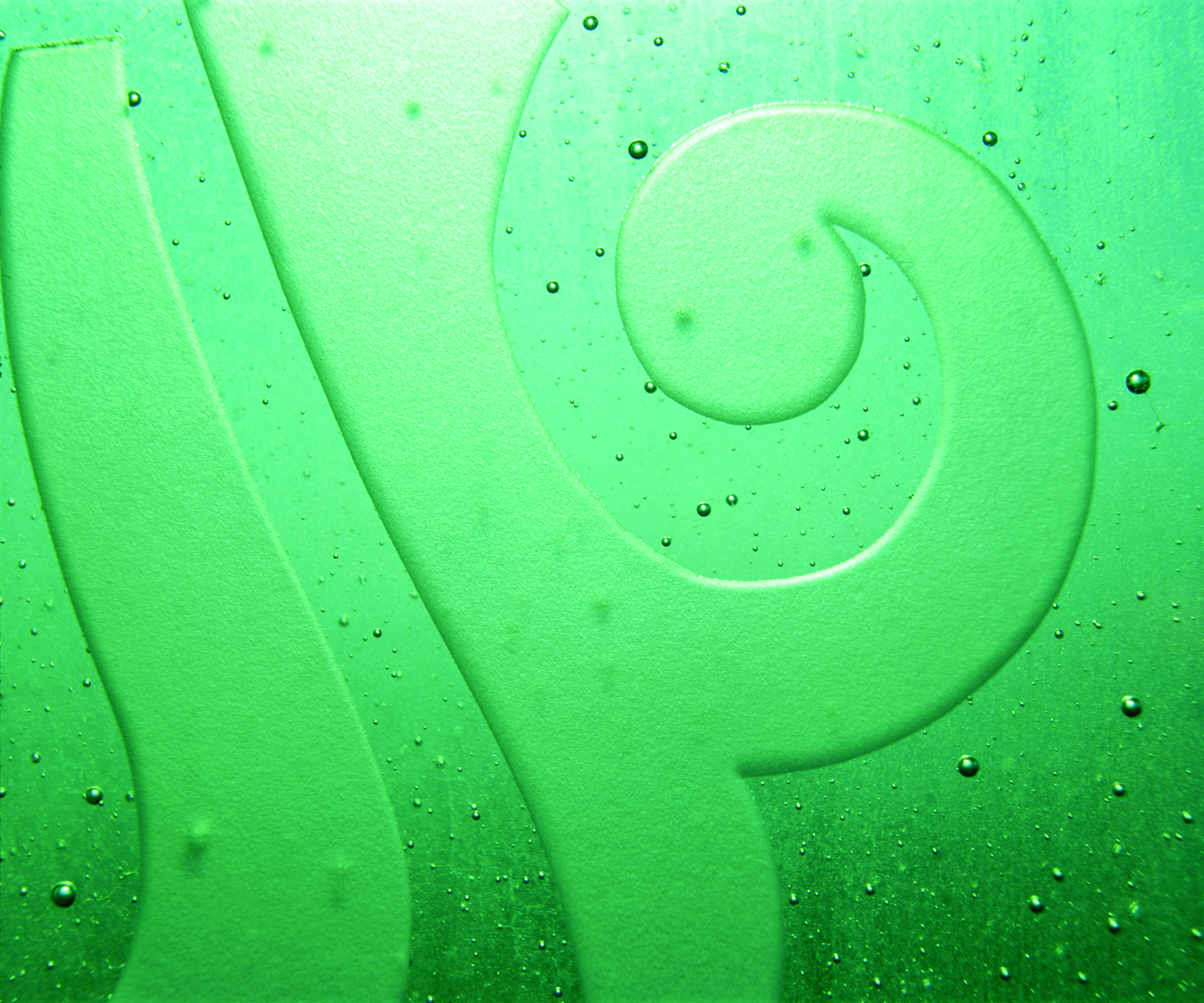 hand carved designs etched on glass
Often a slab of cast glass is so naturally beautiful that we don't want to do a thing to it. And sometimes, introducing a timeless etched pattern can bring a classic elegance that is pure magic. There are ways to simplify and make more decorative, and we are here to help show you all of your options.
sometimes it is just a jewel
This memorial is black granite and white quartz, with a brilliant jewel of pinks and ambers. Sometimes the right design is a stone memorial with a vibrant jewel of color, glowing like a beacon, illuminated and bursting with color.
but won't glass break?
Our day to day experience with glass is often windows and wine glasses, light bulbs and sunglasses - all of which that are fractions of an inch. The truth is, nothing is unbreakable. But glass is non-corrosive, non-porous, non-stainable and has survived thousands of years in some of the most unforgiving climates. It is the reason why we store nuclear waste in glass-lined containers and mix chemicals in glass beakers and scientific equipment. Once we start to examine the history of glass, and how it has endured over the centuries, a new portrait of the medium emerges.
Installing Lundgren Monuments
More often than not, we will assemble your new memorial and ship complete - minimizing the installation and potential for error in the cemetery. We are involved every step of the way to insure your memorial arrives safe and is installed properly.
Hand drawn and hand etched
We pride ourselves as artists and designs. Greg Lundgren uses a drafting table and mechanical pencils to create something truly handmade and one of a kind.
Memorial benches
Before we were designing monuments, furniture, leaded windows and sculpture were our primary focus. We still love the occasional sculpture or furniture project and welcome your inquires - whether that is for a memorial bench or a dining room table.
When the color has to be just right
Custom colors are welcome and exciting territory to explore. Often we will make a sample for the family to insure that the mix and density of color is just right.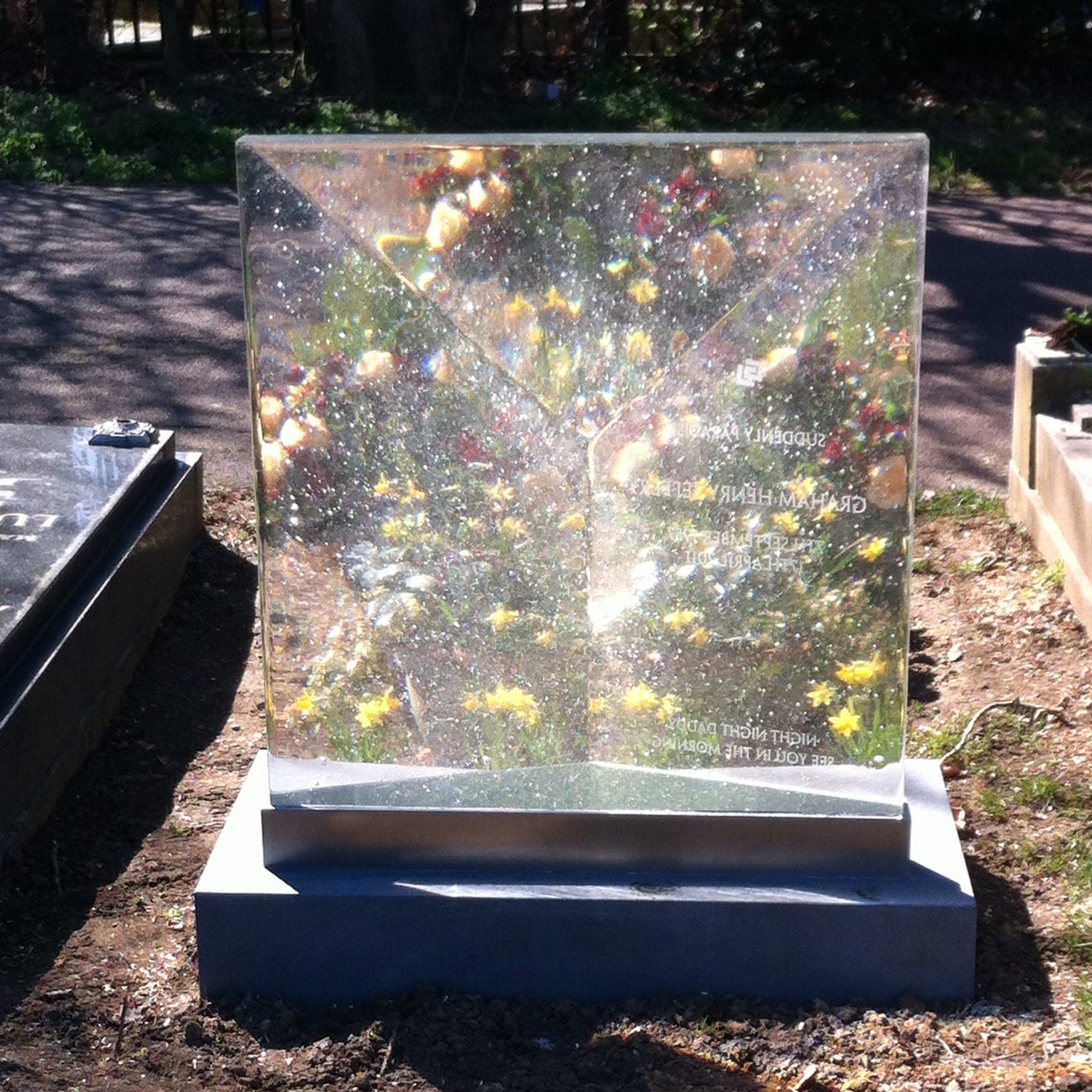 but how much do they cost?
One of the first questions we receive is about the cost of a glass memorial. Since all of our work is custom and one of a kind, we do not have a catalog of readymade designs to select from. And since cast glass is an intensive handmade product, using specialty art glass, we are the first to admit this is not the least expensive option. On average, memorial costs begin around $10,000.00 USD and on average range about 15-20K. The last thing we want to do is add more stress and burden to a grieving family, and given a sense of your budget, we are happy to design accordingly.
But will my cemetery allow it?
When we first started casting memorials in 2002, we thought that cemeteries would welcome a new alternative to granite. Who wouldn't want another option? Who wouldn't want a little color in this often drab landscape? Well, it turned out, there was a lot of apprehension. It just wasn't in their rules and regulations. It was too exotic for a lot of them. But a few progressive cemeteries raised their hands and a whole lot of families became advocates for us. Sure, we still face some opposition, but as our work spreads throughout the world, in all types of cemeteries and environments, that uncertainty is being replaced with enthusiasm. Contact us if you would like us to speak to your local cemetery manager. We are very familiar with the conversation and most often they just need a little reassurance.
classic shapes or modern art
Cast glass is a wonderful medium in traditional shapes such as arches, gables and symmetrical design. Referencing historical design and introducing a new medium can feel modern and elegant. We also have hundreds of drawings and models for memorial designs that really defy convention and exist as pure art. Regardless of your direction, we are welcome versed in design and excited to show you more of what we do.
how long does it take to make?
We typically allow 5-6 months for most memorial projects. This is typical to the industry and it is often the granite that takes longer than the glass.
more colors than the rainbow!
we work with about 100 unique glass colors, that can be mixed, crushed, layered and deepened depending upon the project and our clients direction. Sometimes one solid color is preferred, sometimes 5 or 6 different colors will be mixed to achieve the perfect look.
fun fact!
Did you know that glass and granite belong to the same family? They are both super-saturated silicas, so close to each other that one can grind granite into a dust and blow glass with it. Certainly they look much different, but in reality, they behave very similar to one another, and employ the same tools to cut, etch and polish.
Can you put lights inside them so they glow?
Another common question - can we design a memorial with LED lighting inside, powered by a solar panel? The answer is yes we can - but we don't recommend it. Any technology introduced to memorials is bound to fail over time - be that 10 years or 110 years. And solar panels are often unsightly and made of plastic and materials not designed to last centuries. Plus, a glowing headstone after closing time is only going to attract the wrong kind of activity. Anything is possible, and we are happy to talk to you more about it, but it is an expensive option that causes more problems than benefits gained.
It's like baking cookies...
Well… kind of. We do use a big oven and cast glass into molds, but our temperature is 1500 degrees and it can take weeks for the glass to cool back down. What is accurate is that no two pieces look alike. Each slab of cast glass is like no other and has its own unique personality. Sound like someone you know?
A jewel to accent a granite memorial
Often we design memorials that are majority stone with a crown jewel of glass on top. The glass is anchored deep into a stone cavity, as we understand how dazzling they are and want to make sure that they can't be walked off with. (We think of all the worst case scenarios.)
Sometimes simple wins
Cast glass is such a dynamic material that you don't have to create a busy design to create a beautiful memorial. Sometimes simple wins as glass is naturally beautiful all by itself.
making samples
When you are looking for a mix of colors or something specific, it is often best for us to make a sample for your review. Since each project is one of a kind, we are often making things that have never been made before. The ability to visualize this through samples is the best way to understand and calibrate color.
etched artwork on glass
On dark colors, etching stands as a high contrast. On clear and non-pigmented glass (crushed clear iridized glass shown above), the etching is defined but subtle.
what does your last home look like?
We view memorials and urns as architecture for the departed. It is the last place we live and it lasts until the end of time. So let's give it some real thought and consideration. It is often our last opportunity to introduce art and beauty into the world, and to leave something brilliant and magical behind is a kind and generous act.
but what if we live far away?
Lundgren Monuments works with families and organizations around the world. Once a monument is properly crated, it can be shipped anywhere in the world.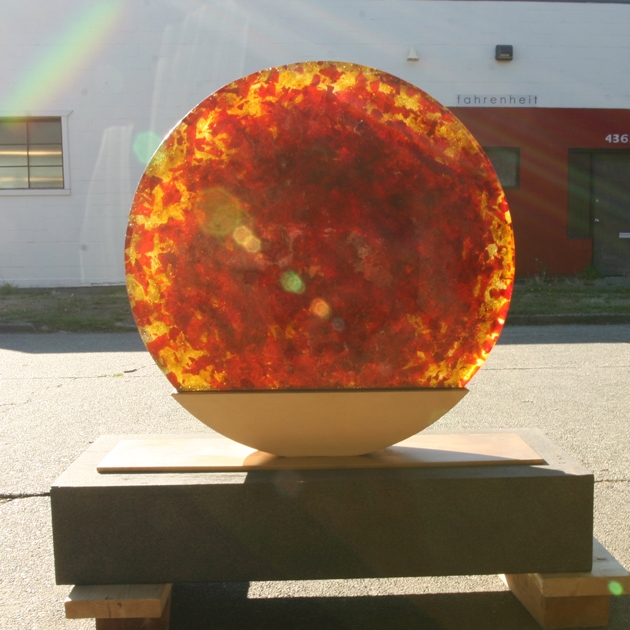 how glass is anchored
cast glass can be incorporated one of two ways - directly set into a granite plinth, or anchored into a bronze or stainless steel sleeve. It in important that expansion and contraction can take place as temperature and moisture vary.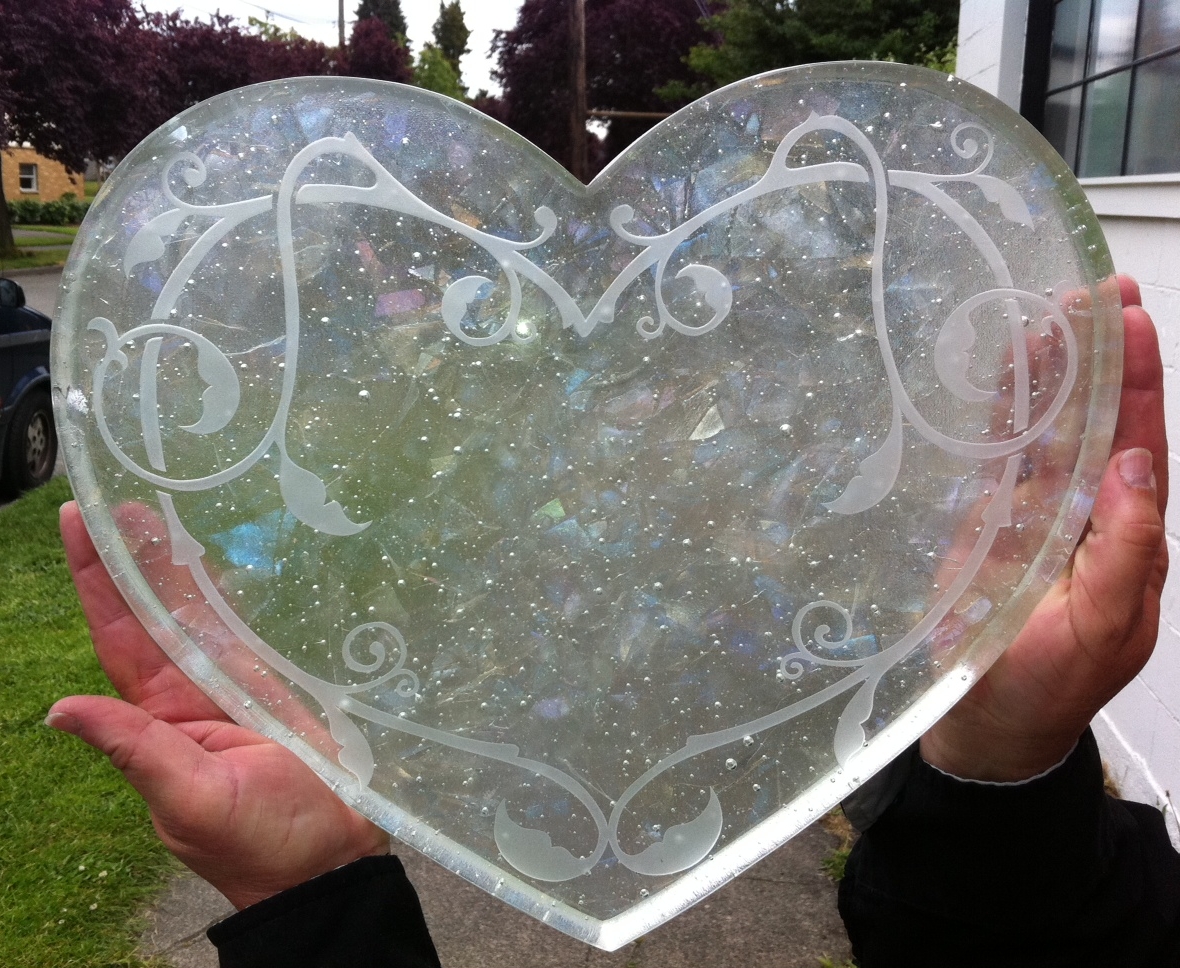 decorative etching on glass
Our design expertise ranges from the historic to the modern. We want to create beautiful, timeless pieces that reflect your loved one and stand the test of time. Etching on glass is a permanent way to introduce text and graphics onto a memorial.
modernizing traditional shapes
it is amazing how modern and new traditional shapes and decorative features can look on cast glass. We often introduce our memorials into historic cemeteries and often working with classic shapes is the right way to go.
creating patterns inside the glass
This blue wave memorial is a favorite and for good reason! This was constructed in layers, cutting and stacking sheets of clear and colored glass - almost like building a sandwich. The process allows for crisp, dimensional patterns and overlapping colors. Once the mold is packed, the glass is melted to become one solid slab, but on edge you can still see the layers of glass that built up a panels thickness. It is more laborious, but a very special way to cast colors.
etching on front and back
Etching on glass presents new opportunities that are not possible with opaque materials. We can etch both surfaces of a memorial, understanding that the surfaces can compliment each other. In this design, we carved bamboo and bumble bees on the backside, with text placed on the front surface.
the thickness of cast glass
Depending upon the project, we create cast glass in all different types of thicknesses. Thicker glass is not necessarily stronger glass, and anything over 1.5" (38mm) is going to stand up against the test of time and weather.
can't my local glass artist make one?
You might find someone willing to experiment and try to make one, but we don't recommend it. Largely because there is a very steep learning curve regarding material, casting process, design and installation. Partly what you are paying for is the fact that we have 20+ years casting large scale outdoor sculpture, and we have seen every problem and bump in the road imaginable. We invented the cast glass memorial, and it wasn't an easy process to master. If you can find another artist to create something for you, ask a lot of questions and proceed with caution.
jewels in the cemetery
Anchoring cast glass in stainless steel sleeves is like a jewel in a setting. And when the sun hits it just right, it sparkles and dazzles the eye like nothing you've seen before.
diversifying materials
We design in bronze, stainless steel, granite and cast glass. It's not that one is "better" than the other, it's about providing alternatives to all-granite memorials, about introducing color and light into a memorial - it is about providing greater choice. And sometimes the best designs incorporate stone, metal and glass.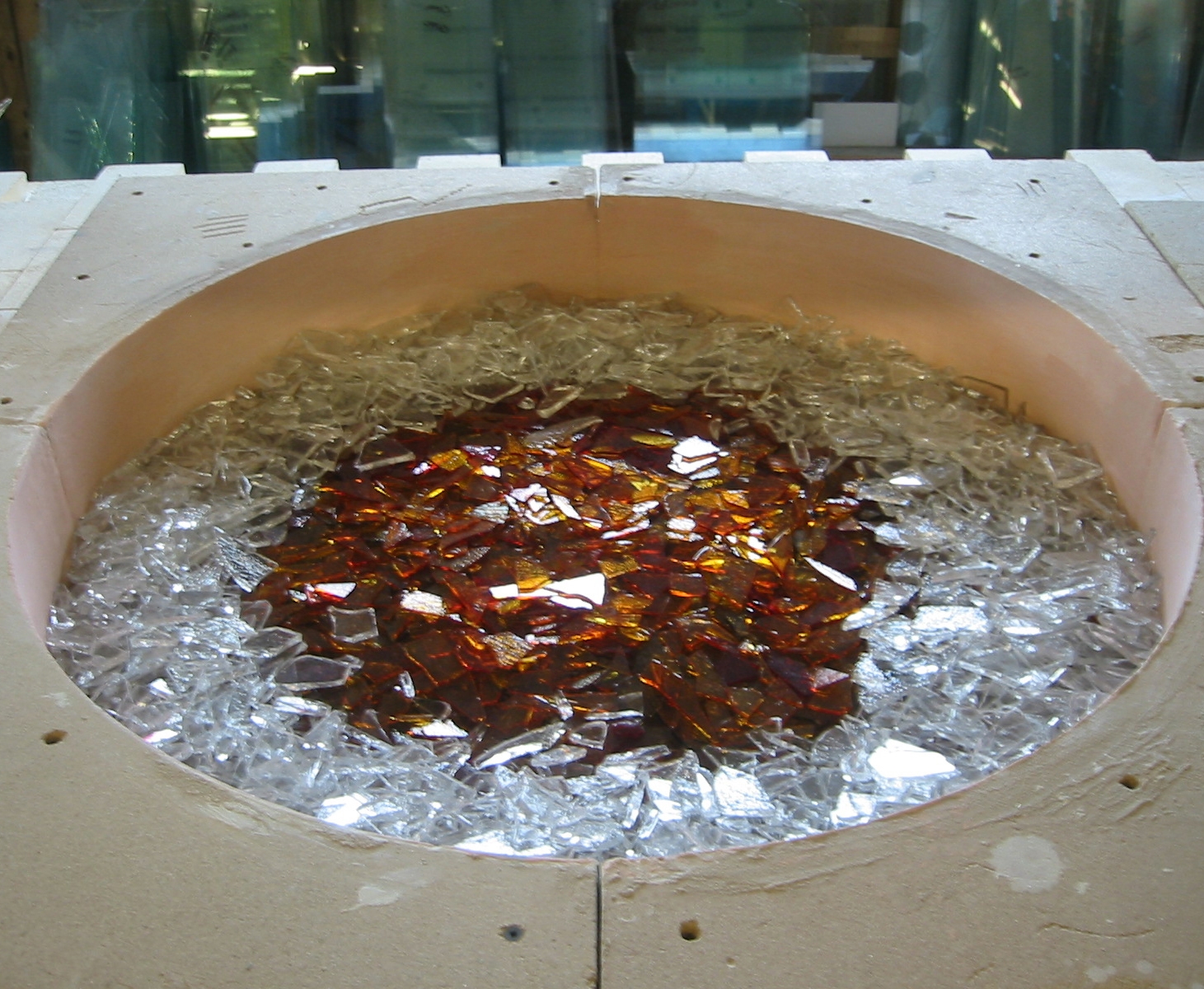 the process
There are many ways to cast glass, but all of our projects are made in electric kiln, handmade and computer controlled. It really is like baking - we know the recipe and the temperature, but each mold inside the kiln melts and settles in an original way - not unlike a chocolate chip cookie. When the kiln opens, we are excited as kids to see the transformation that happened.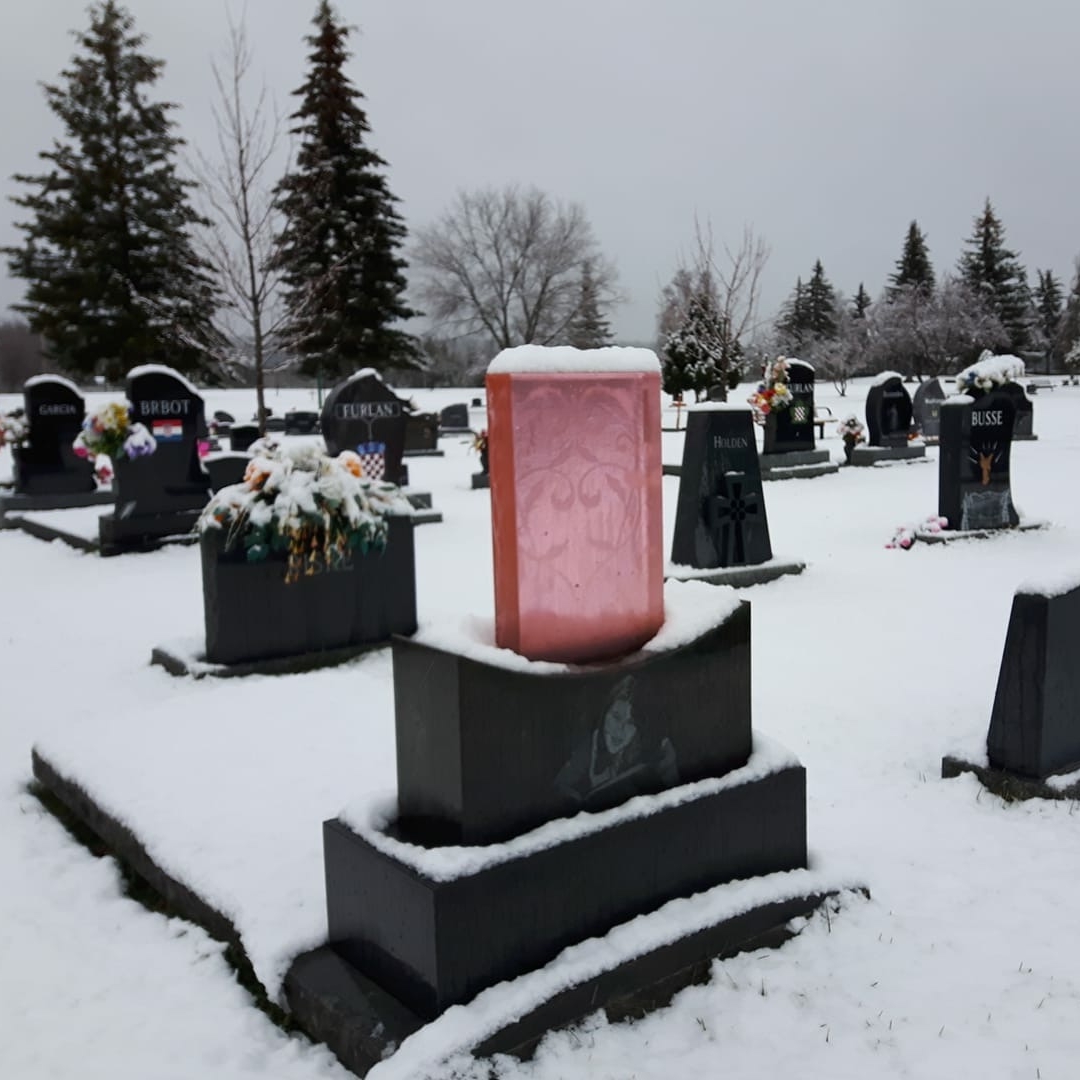 It's not for everybody
We understand that a lot of people don't want a glowing pink headstone. That maybe what we do is too colorful, too positive, too much fun. Death is, after all, a difficult and often devastating reality to bear. We understand that we aren't for everyone.
But for those that like the idea of a glowing pink headstone, or a rainbow, or a splash of purple, or blue, or red - we are here to help. For those that always stood out in a crowd, we've got you covered.
incorporating seating in your memorial
There are many ways to incorporate a bench or seating into a memorial. Once we have a clear understanding of what your needs are, we will (literally) go to the drafting table and compose designs for your review. And if we don't get it right on the first try, we'll keep on drawing until we do.
If we can dream it, we can build it
We welcome your ideas, designs and direction. It truly is a collaborative process and we will keep drawing and refining a design until it is just right. It is designed to last forever, let's take our time and get it right the first time.
for the person who stood out in a crowd
Iridized glass creates a magical depth of subtle pinks, blues and amber that reflects sunlight as your eye passes over it. This is al clear glass with a thin iridized coating on some of the interior pieces. As delicate as butterfly wings, it can be a brilliant addition to a cast glass slab.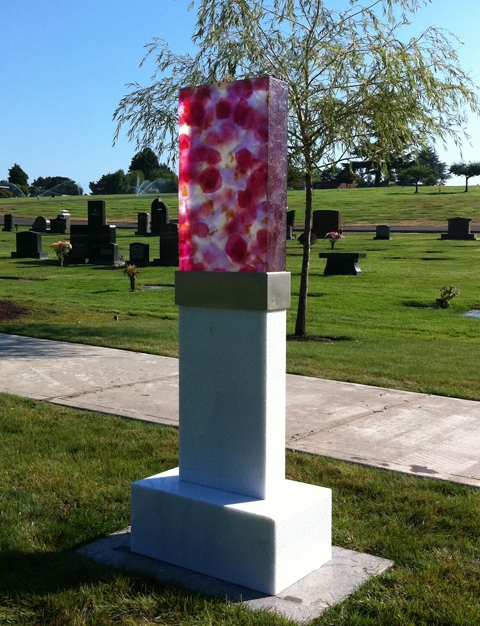 People live colorful lives
And sometimes a solid black granite memorial is not the best way to remember their spirit. We have a hundred different colors to select from, and a thousand ways to cut, mix and shape your memorial project.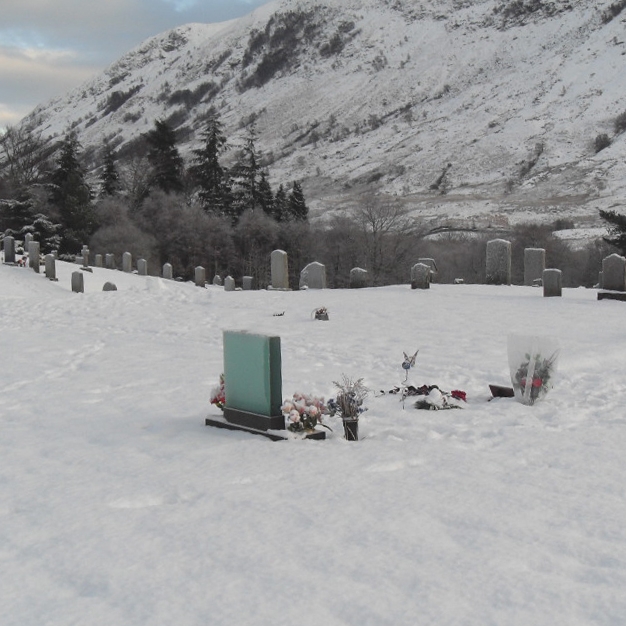 But what if it gets really cold?
A big misconception about glass is it's durability in warm and cold climates. One of the most common concerns we receive is how glass weathers in extreme climates. What we often forget is that the windows in our cars and homes, the streetlights and headlight, our city's skyscrapers and storefronts are all made of glass. And in fractions of an inch. If properly annealed, cast glass monuments will endure climate extremes just like other forms of architectural and automotive glass.
bubble management!
No matter what the style, cast glass is going to have bubbles in it. It is this quality that makes glass look like glass, and look handcrafted. There are ways to get less or more bubbles, but ultimately it is understood that each glass project is going to look wholly original and unique. This memorial was cast with stacked sheets of glass, creating a field of little "champagne bubbles" which is mesmerizing.
etching portraits on glass
With your provided photograph, we can etch a portrait on glass or granite. On clear or pale colored glass, it can have low contrast (as opposed to a white etching on black granite) but sometimes that sublty is magical.
champagne bubbles
When casting solid colors, we often stack colored art glass in layers, and melt them together to form one solid slab. This process traps thousands of tiny bubbles within the glass, something we call champagne bubbles due to their size and uniformity.
I want to enjoy this before I die
Yes - that's a great way to think about it. We can make your memorial and ship it to you long before your time has come. It's a great conversation piece or outdoor sculpture, and when you die, there is not confusion about what to get you. Your future monument can serve as a cocktail table and help foster a death-positive environment in your home. You wouldn't be the first.
memorial walls and public sculpture
We began as sculptors and artists, making furniture, art and public commissions for signage, benches, entryways and liturgical windows. We are equipped to handle projects of all scales and sizes, and welcome your inquiries.
Shown: Loyola University 9/11 Memorial Wall, Baltimore, MD